A young man who had a promising career in the majors was taken away this morning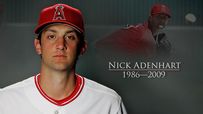 from not just the Anaheim Angels organization or his family, but everyone in baseball, from the Commissioner's office to the fans.
Nick Adenhart, a 22 year old pitcher for the Angels was killed this morning in a three car accident only hours after he pitched a six inning, six hit scoreless game against the Oakland A's.
It was being reported by ESPN that another driver in a minivan ran a red light hitting Adenhart's car and causing it to crash into a light post. One report said Adenhart was thrown from the vehicle.
The driver, Andrew Gallo, was said to be intoxicated and driving with a suspended license. His license was suspended for, surprise, surprise, another DUI. Upon crashing into the vehicle Adenhart was in, he fled the scene on foot.
Police were able to apprehend him 30 minutes later. Gallo's blood alcohol level was over the legal limit of .08 percent.
ESPN continued in saying Gallo will be facing vehicular manslaughter charges and possibly murder charges on top of the "hit-and-run and driving under the influence" charges.
Adenhart was alive when he was taken to the hospital, but died while in surgery.
Two additional passengers were also killed in the vehicle Adenhart was in. The fourth passenger is in the hospital in critical condition.
I cannot even begin to describe what I think about this. My heart, thoughts, and prayers go out to the Adenhart family, the Angels organization, and the fans.
A life sentence is too good for Gallo. I completely agree with the death penalty here.
You have a DUI conviction already and a suspended license and you are still going to have the cojones to get behind a wheel of another vehicle drunk?
Let this be a lesson to all those that drink and drive. Three lives were taken senselessly. Do you want your legacy to be you were too stupid to realize drinking and driving is reckless? Do you want people to remember you for having killed others because you were an idiot?
I wonder what is going through Joba Chamberlain's mind right now. Yeah stupid! You could've been that driver to hit that car.
So many spoke highly of Adenhart. We will never see just how much he could've accomplished in the majors.
For the rest of us, know that life is too short.
Like Torii Hunter said in his interview with the MLB Network, treat others how you want to be treated. Tell your loved ones how much you love them. Never let a day go by without saying it.
Live. Love. Respect.

R.I.P. Nick Adenhart
We hardly knew you. You will be missed.