Home is where the heart is.
That is what they say. That is what thousands of people have hanging in their homes. Well, Mets fans and players have no real home. Our hearts stayed with Shea Stadium.
I have a friend on FB, Marie, who is also a CFoD reader. At least I think and
hope she is.
I got the impression she was feeling a bit nostalgic and angry this morning.
She had this as her status:
Shea Stadium brings tears to my eyes, it was such a magical place with its own personality, so many awesome memories ,I miss it…

Afraid to go to Citifield b/c I hate new stadiums, I'm even gonna to admit missing the Vet!!!

These New stadiums are cookie cutters, with so much going on in the park…At least the old ones…… served one purpose..to watch a ballgame, that is it!!!!
To add to her point, she placed a video of the Beatles singing "Help", which is a great song, when they were at Shea Stadium.
She continued her rant with this:
If I wanted to be entertained, I will go to an amusement park or bar!!! Bring the Old Stadiums back from the ashes!!!!!!!

I Love baseball and come to the park to see a game being played!
I have to say I miss the old ballpark as well. Do not get me wrong! Citi Field is a beautiful ballpark. Yet you do get the feeling it might be a little too much for the die-hard baseball fans.
There are bars and restaurants there. Shea never had that. Just concession stands. Actually Shea did have a high scale restaurant and a not-so high class.
But why have bars and restaurants in a ballpark? You go there to watch a game. If you want to eat at a restaurant, go to a restaurant. You'll definitely spend less money outside of Citi.
I have to complain about their FanFest at the new park. It is nothing like the one that was Shea. I always felt there was more going on and more interaction at Shea's FanFest.
The new park just does not shake like Shea used to.
Another CFoD reader, Joey, always used to talk about how Shea would shake underneath you if you sat in the upper deck. I think I only experienced that once.
Here's how Joey describes Shea:
Shea Stadium is like your grandmother: Frumpy, old, but you love being with her, being in her presence. She is not going to look like your wife or your girlfriend, but you love her.
I would describe Citi Field as a supermodel. Gorgeous on the outside, but no real substance to it. No offense to the models out there.
Shea Stadium is like Meryl Streep or Glenn Close. Might not be beautiful, but there is so much history there. So much wisdom. So much passion
Here is what I think. You can have historical things happen at Citi, like the Mets winning another Championship. But it will never be Shea. It will never be home.
Yes, it is a new place that we reside in. But is it really "home?" Are we really comfortable there?
Ownership can continue to make changes to make it feel like home. You, the fans, can gripe all you want about Citi Field. But deep down you know that no matter what is done to Citi, it will not be home.
It will be years before we can really call Citi Field "home sweet home". That is if we even can.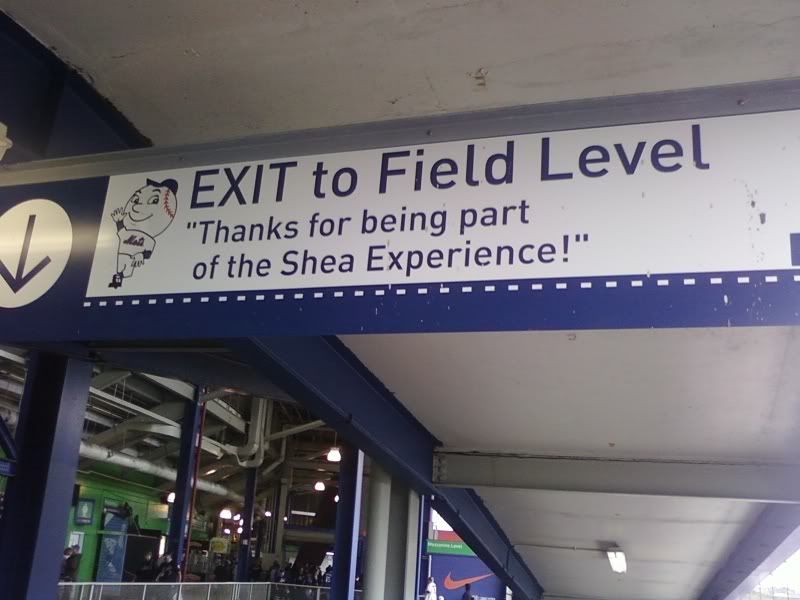 I would ask what do you think. But I have a feeling I already know the answer.
Marie, we all shed a tear when we see footage of Shea Stadium or even just hear the name. We all miss her.
Here's to Shea Stadium. We still miss her and always will. She will never be raised from the ashes, but her spirit will always be there because we the fans will always be here to talk about her.