You have to  love any player who is willing to throw down. Who needs gloves when you have a baseball and a fastball that can create a hole right through your head?
I'm talking about Francisco "Do-Not-F***-With-My-Team" Rodriguez! LOL!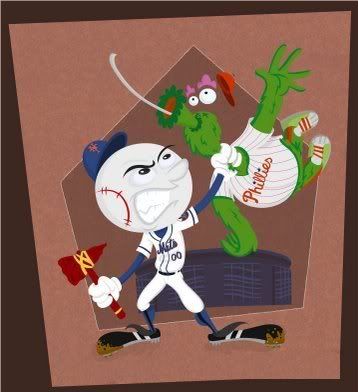 I am so serious. I missed the game Frankie hit Willie "Soon-Becoming-The-Most-Hated-Gnat" Harris. After the plunk, Harris looked at him and Frankie was like "What? F***you!"
Wow! Talk about having some fight in you. LOL! I LOVE IT!
I have always liked the wrath that Rodriguez brings with him. He is a male version of me. You know the old saying "Hell hath no fury like a woman scorned"? Well hell hath no fury like a pissed off pitcher who knows one player is the reason his team could not make a comeback.
This is one thing that is wrong with this team. There is not legit fire. I'm not talking about dedication. I'm talking about a match lit right up their rectum.
To get this team going, this team needs to get pissed. Frankie boy is not just pissed. He is vexed and ready to kick some ass.
In 2006, everyone hated the Mets because your New York Metropolitans were willing to do whatever it took to win. They fought and they fought hard. They knew when it was time to get down and dirty with opposing teams. They had that fire. They knew who they were and were not going to let anyone tell them otherwise.
This is what we need. Johan Santana has that. Frankie has that. Now all the other little prissy, pretty boy preppies need to get pissed. They need to get angry, become enraged, tell everybody to "Piss off".
The New York Mets need to go into Colorado with the "You-want-a-piece-of-me?" attitude. They need to dare pitchers to make mistakes and make those pitchers pay dearly for it.
It is time to take out opposing players as they go around the base paths. Force opposing outfielders to crash into walls so hard they break their noses on the play or completely miss the ball.
It is time to get angry. Mets fans already are. Mr. Met is angry. It is time the players did. First person to get mad at? Willie Harris. Then Jerry Manuel for his stupid comments.