If there is one thing all Mets fans enjoy doing is shopping for their Mets gear in time for the 2012 season. Well I have
done some digging around to give you the best gear and where to get it. This part of my job, I rather enjoy.
We are going to start with the most awesome 7 Line merchandise. You all know about this shop because it has been seen on MSG for the Boomer Esiason and Carton show, all over Citi Field and of course their now infamous calendar. Well, here is the gear you need to have for Opening Day at Citi Field.
This is the latest shirt to come out from the 7 Line and it is the best shirt to come out. I am a big fan of it.
It is the
Keep Calm and Cheer On shirt. It is THE must have t-shirt for the 2012 season.
With the future looking so bright with prospects like Matt Harvey and Zack Wheeler, Mets fans should just take deep breaths, stay calm and just keep rooting hard for your team.
You are known for never giving up. So don't. Stay calm. Buy a shirt. Anybody want to get me this shirt? Hint. Hint.
Price: $20.00
The Shea Catcher t-shirt is the most popular shirt being sold on this site. Do I have to explain why? Think Gary Carter, Mike Piazza and now Josh Thole.
This is for all of you who love catchers and miss the old ballpark. It is available in two styles for women (tank and t-shirt) and in t-shirt form for the guys. The hat is $25.
It also comes with the hitter (tank for women and t-shirt for guys) and pitcher. All that is missing from this collection is the fielder.
Price: $20.00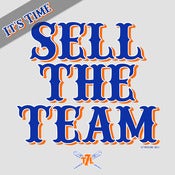 Next up is one all of you can relate to: SELL THE TEAM.
This is the perfect shirt for all Mets fans that want the Wilpons and Saul Katz out of ownership. Some blame everything on the Wilpons, but Katz gets some blame to. So if your mission is to get the message out there, here is your chance.
This is definitely on the top 5 list for the site. Are you really surprised?
Price: $20.00
The Loyal t-shirts speak out for the true die-hard Mets fans out there. This is something that I stress with you guys. I have recently come across several Mets fans who became Yankee fans over the winter break. They are not deserving of these shirts.
This is for all of you have suffered, and continue to suffer, with this team. They are your team until the day you die.
It comes in two colors for men (white and grey) and only grey for the ladies. I think we would've looked better in white. That is just me.
Price: $20.00
Last item that I think makes the perfect gift for all of the Yankee fans in your life, including friends and family. It is the latest shirt just in time for the 2012 season.
We all know that fan base only grew after 1996. Where were all of the fans when the team was in the cellar? They were all Mets fans. Well, here you go.
This is for all of the 55 percent or more bandwagon Yankee fans. I hope you are all proud of yourselves. It is easy to jump ship when your team sucks. When the Mets take this city over again, there is no room on our ark for you. Back up and piss off!
Price: $20.00
So there you have it. Head on over to the 7 Line to get your 2012 Mets gear. Don't be caught at Citi Field without it. You just might be the only one.